Risoluzione 904
---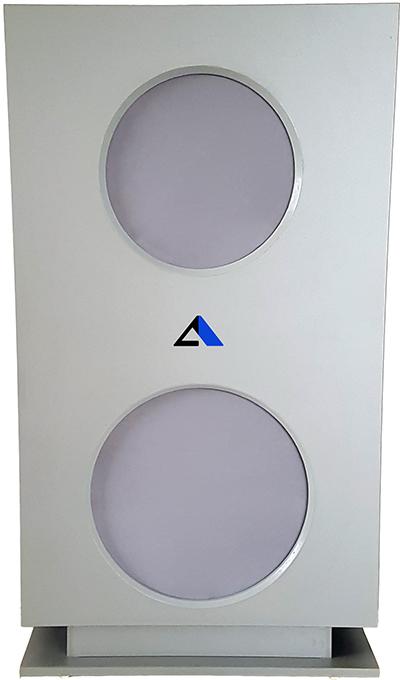 Risoluzione 904 Loudspeaker
---
Think beyond the rules to create a product that has never been seen before and will be the reference for many in the future of hi-end.
This is what we do in Domaudio from our debut with the battery powered Grido series amplifiers and with original circuits that still represent excellence in audio reproduction.
The Resolution 904 loudspeaker integrates innovation, technology and extreme care in all the technical and acoustic aspects to give maximum listening pleasure with a minimum impact in the environment thanks to the wall positioning and reduced depth.
Dynamic performance, sonic balance, absence of distortion, ease of handling, high quality / price ratio, are absolutely unprecedented.
Suitable as a Far Field monitor in recording studios that place quality first.
The Resolution 904 loudspeaker was brought forward in March of this year in Domaudio's Facebook pages when the DK15 coax was presented, to which we refer for those interested in the technical aspects of realization.
In addition to the fantastic DK15, it uses the DW15 woofers, also of superlative quality and perfected by the DomaudioPro Tech sector.
The recommended amplifiers are the Domaudio KV1 monophonic amplifiers, the monophonic Grido series and the integrated Grido 100, with which it constitutes a DMX DomaudioHigh End certified system.
Like all Domaudio products, it has a 10-year guarantee thanks to the high quality of the components and careful assembly, demonstrating its great reliability.
| | |
| --- | --- |
| System | 3 way (18 "woofer, 15" coaxial with 1.3 "driver) |
| Maximun continuous electrical power | 650 + 400 + 250 W |
| Maximum peak power | 1400 W |
| Nominal impedance | 8 Ohm |
| Efficiency | 96 dB 1W/1m |
| Maximum sound power at 1 meter | 128 dB |
| Frequency response | 35-20.000Hz |
| | |
| --- | --- |
| Recommended power | From 1000 to 2800 Watts |
| Recommended amplifier | High resolution and progressive saturation |
| Room size | From 30 to 80m2 |
| Speaker Position | Wall mounted |
| Listening distance | From 2 to 6 meters |
| Listening position | At least 70 cm from the rear wall |
| Listening height | From 80 to 120 cm |
| | |
| --- | --- |
| Height | 127 cm |
| Width | 70 cm |
| Depth | 30 cm |
| Total weight for channel | 50 kg |
| Finishing Choice | Of your choice |
| Color | Of your choice |
---